How To Get 1000 New Instagram Followers Today
I have over 5000 followers each on Instagram and Twitter. A quick glance at my social profiles and you'll almost wonder if I was some popular person or a local celebrity perhaps.
No, I'm nothing of the sort. And the followers? They were a gift from a friend who sells such services.
While I do not know how he's able to generate thousands of followers and likes from fake profiles in a matter of minutes (he's probably using some automated software that's able to create thousands of fake accounts with auto-follow and auto-like features), I do know a few tricks that can get you thousands of followers and likes on most of your social profiles – Facebook, Twitter, Instagram, Soundcloud, etc.
In this tutorial however, we'll be focusing solely on increasing the number of followers on your Instagram profile.
And the only reason I'm doing this tutorial, in the first place, is because a dear friend of mine asked me how I was able to get thousands of followers on my Instagram profile.
I promised her I'd get back to her with all the tricks that I know (I did tell her I got mine as a favor from a friend).
And I thought, why not make it into a full post so others like her can benefit from it?
You should NOTE however, at this point — and this is IMPORTANT — that the followers you'll get from using this tutorial are genuine profiles, not fakes, unlike the one my friend provided me with.
But before we get into the nitty-gritty of it all, let's clear a few things first.
Is it safe to buy fake followers and likes?
Legally, no. You can be banned if you did.
Before you go all this-that-he-she on me however, know this: I haven't yet seen anyone getting banned because of purchasing fake followers.
And I'm talking solely about Instagram here. I've seen Facebook pages and Twitter profiles that get deleted on account of purchasing fake social boost (but this is a very very small percentage, almost negligible).
On Instagram though, I have yet to see someone get banned because he/she purchases fake followers or likes. And I suppose I have the right to write on this because I've previously been a reseller of fake Instagram followers and likes, that is until I moved on to other things. In all my experience (of over one year reselling fake followers/likes), I have never seen one customer get banned.
That's that. But there's one other thing. And this is important too.
You will get banned on Instagram for a whole lot of different reasons, some of which include:
Spamming – spam comments and URL promotion.
Posting nude pictures and NSFW photos that could be reported by others.
Hate and/or racist messages.
Fake identity – pretending to be someone else.
But never because you suddenly get shitloads of new followers.
And so to answer our question, yes it's completely safe to buy fake followers and likes on Instagram, although it is technically illegal.
But that's not what this tutorial is about.
How To Get More Instagram Followers For Free
This tutorial, besides teaching you how to get new instagram followers for free, will also serve as a CASE STUDY on the top free Instagram services that can be found on Google's first page.
We'll take a look at each of these services and test them to see which site offers the best services in terms of getting new followers.
—
UPDATE: If you want to skip to a tutorial of the method that's best working for us, click on this link:
AddMeFast Method: Free Instagram Followers & Likes
1. Instagfollows.com Review
Site: https://instagfollows.com
Okay, so instagfollows has an easy interface that will ask you to enter your username and select the number of Instagram followers you want to receive.
But as soon as you click on the Click to Confirm Order link, a window will pop up asking you to complete a survey.
The survey may include downloading an app, signing up on a website or installing an application.
This complete-a-survey technique used here is called PPD (pay-per-download) in the internet marketing world, and this particular survey is powered by CleanFiles.net, a popular PPD site.
What this means is that when you complete the survey, the owner of the site will make some money and he will give you something to download.
So I completed the survey and downloaded the file, which is a .txt file. And in that text file, the owner directs you to another survey.
So I completed the survey again and guess what I got, nothing! Just a download link to a software called xGram bot, which is a desktop software that was able to create hundreds of fake Instagram profiles previously.
But the software no longer works, and even if it's working, you'll be required to purchase proxies to run the software.
So in conclusion, instagfollows.com is a big pile of dog crap. And you should avoid it.
Instagfollows.com Verdict NOT RECOMMENDED
2. Gain Insta Followers Review
Site: https://gaininstafollowers.com
This supposedly seems legit. It looks like a follow and follow back technique, meaning you will get a follower for each person you follow, and more followers when you're featured or share a post.
And it works as a third-party app that you will have to authorize from your Instagram account.
The trouble, however, is I was unable to authorize the app to access my account. There's probably a glitch on their end.
So, gaininstafollowers.com too is also a no-no.
Gaininstafollowers.com Verdict NOT RECOMMENDED
3. Instagram Followers Hack Tool Review
Site: https://igfollowersfree.com/
If a service requires you to download a tool that you have to run yourself in order to get more Instagram followers, it's definitely a no for me.
Instagram Followers Hack Tool apparently is a software application that is 'reliable and 100% working'. Like we haven't heard that one before.
Here's why I don't think this software works, and it's also why I didn't download the software in the first place: they have a shitty website with a more shitty content (poor grammar and irrelevant content). And to download the software, you're going to have to complete a survey first. Deja vu anyone?
I don't think it's a unique software. I don't think the software works. In fact, I think it's the same software (xGram Bot) that the instagfollows guys are selling.
So Instagram Followers Hack Tool, or igfollowersfree.com, too is a complete lie as far as I can tell.
Instagram Followers Hack Tool Verdict NOT RECOMMENDED
4. Instatrain Review
Site: www.ig-fastboard.ru
This one seems reliable at the start because it works on referral and credit system.
Every time you refer a friend to their site or share a post or picture on Facebook, Twitter or Instagram, you get some credits.
You can then use these credits to get more followers. In theory.
Here's the f*cked-up part however. I signed up on the site. I authorized the app to access my Instagram account. And then I followed each step to the last, and this includes copy-pasting the authorization URL to their site and authenticating the whole thing.
And then I uploaded an image to my FB profile to get some credits. The site is pretty self-explanatory, so I won't go into all the details.
But the trouble is, I didn't get any credits.
And credits are everything in this type of exchange sites because the more credits you have, the more followers you will get.
So once again, I suppose this service is out the window for me.
Maybe you could give it a try and work the system out. But I'm too drunk to care right now, so…
Instatrain verdict NOT RECOMMENDED
Short Rant I feel like giving up right now. Maybe it's better to spend $5 on Fiverr.com and purchase a 5000 followers pack. These websites and services that I've so far reviewed are all on the first page of Google when you search for 'instagram followers for free'. And they've so far all turned out to be a waste of time. And I'm sure the other sites and services that are on the first page of Google will be a total disappointment. This includes:
ifreeinstagramfollowers.com – this site asks you to share their site on FB, Twitter or Google+ to access a locked content. I wasn't able to open the content even after sharing the site's URL on Twitter and FB. And they're offering multiples choices of 20,000, 40,000 and 60,000 followers. This is very unrealistic. So I'd stay away from them. ifreeinstagramfollowers verdict NOT RECOMMENDED
InstaShuttle – igtrain.ru – this site works in the same manner as InstaTrain (previously discussed). InstaTrain didn't work for me, I see no reason why a Shuttle will work either. InstaShuttle verdict NOT RECOMMENDED
Google's first page results are often times populated with shitty sites such as these. Webmasters and search engine optimization (SEO) service providers will work their ass off to promote shitty sites like these that provide no value to the end user. And articles like the one you're currently reading, that actually provides some value, will not even appear on the second page of Google's search results unless I resort to some aggressive search engine optimization (SEO). Fuck Google. Share this article. But we'll continue with the article anyway because I promised you a working tutorial on how to get more Instagram followers at the start. I will now move away from the Google results and talk about the services that I know actually works.
5. AddMeFast Review
Site: www.addmefast.com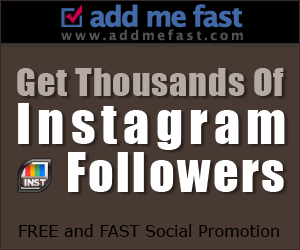 This is one of the best services out there in my experience. I have been using AddMeFast for more than 2 years now for different purposes, especially for Facebook page promotion.
I haven't really used their Instagram services so let's check it out.
AddMeFast is a credits-based social exchange site. This means that every time you follow someone or like a page or post, you will receive points. You can then use these points to generate followers and/or likes to your profiles.
Signing up on AddMeFast is pretty easy. Once signed in, you can earn points by liking a FB page, following someone on FB, sharing a FB post, following someone or liking a photo on Instagram, etc.
But here's the catch. You're getting these points at the expense of cluttering your home feed, which is very annoying not just for you but for your friends who see activity feed on their home pages.
So to do away with this, just create new accounts on Facebook, Twitter, Instagram and Pinterest using your secondary email.
If you already have a secondary account on these social networks, and I think you do, all the better.
Okay, let's proceed. Since I already have a secondary FB and Twitter account, I'll be using these to get the points. Once I've accumulated enough points, I'll add my real Instagram account and set to gain new followers.
Once your total clicks has reached 20, you can avail of the daily bonus which is 150 points.
I was able to get 238 points within minutes by liking Facebook pages and following FB users.
At this point, you can now add your Instagram account.
Here's a bullet-point list of the whole process:
Sign up at AddMeFast
Login to your secondary FB, Twitter and Instagram accounts.
Get free points on AddMeFast by liking Facebook pages and posts, following people on Instagram and Twitter, etc.
When you've reached 20 clicks, claim your daily bonus by clicking on the Daily Bonus link.
Add your Instagram account by clicking on the Add Site/Page link at the top.
Set the CPC (cost per click) to 4 or 5. This is the number of points that will be deducted from your balance everytime someone follows you.
Sit back and watch the number of your Instagram followers increase.
If you're not getting good number of followers, you might want to increase your CPC from the My Sites settings.
Notice how the number of followers on my profile increased within a matter of minutes upon running an AddMeFast campaign.
AddMeFast verdict WORKING & DEFINITELY RECOMMENDED
6. Twiends Review
Site: https://twiends.com
Twiends was the first social exchange service I used, back in 2010. Things have certainly changed in 3 years, but the principle is still the same; and it's similar to that of AddMeFast.
You will get points, called seeds, every time you discover a new profile and follow them.
Likewise, when someone follows you, your balance of seeds will be deducted. You can decide how many seeds you want to offer per new follower.
Twiends, in some way, also acts as a social network. It serves as a platform for introductions. It introduces you to others and helps grow your network.
Twiends currently only have Instagram and Twitter features. It previously had a system for Facebook interactions; this, in the newer updates, have been done away with.
Twiends works great if you're looking to grow your network with genuine followers. But if you're just looking to increase the number of your followers, you might find it a little slow.
AddMeFast seems to be the recommended choice for increasing your follower count.
TWIENDS verdict WORKING & Recommended
7. Join4Likes Review
Site: join4likes.com
Join4Likes has a system and design very similar to AddMeFast. It's pretty self-explanatory.
It has all the features AddMeFast has, including Facebook, Twitter, Instagram, Pinterest, Soundcloud, etc.
You'll get free 100 points upon signing up. You can get more points by following and liking others.
However, Join4Likes doesn't seem to have as many users as AddMeFast. This means that the rate of increase of likes and followers will be relatively slower, and you'll have to set a higher CPC (more than 6) to get people to click on your profiles.
Join4Likes verdict Working & RECOMMENDED
Conclusion & Final Verdict
So after reviewing 7 services to get free Instagram followers, I have come to the conclusion that there's really only 1 service that's worth signing up for.
And that's AddMeFast.
AddMeFast seems to have the most number of users and with enough points, you can easily go from 0 to 1000 new followers within a matter of hours.
You can use the service for getting likes on your Facebook pages or photos (must be set to public) and to get more followers on Twitter.
If you want to avoid all the hassle, some sellers on Fiverr offer 1000 new followers for $5 (link here).